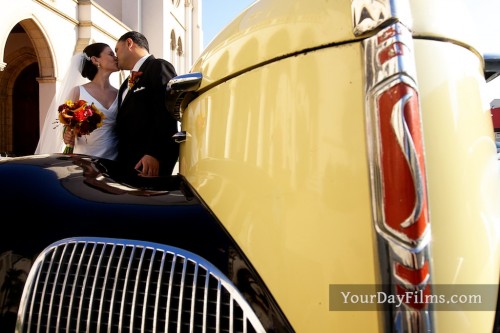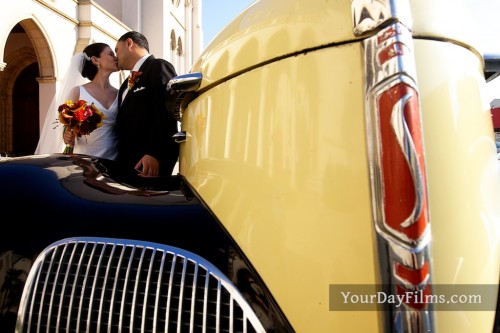 In 2010, we had the privilege of shooting the wedding of Gina & Jason Ibarra. Their day was so amazing, and so filled with intricate details that Gina had planned. Every single detail had purpose and meaning, down to the car they rode in from the ceremony to the reception. Rather than tell you myself, I asked Gina if she would tell us the story from her perspective. She graciously agreed, and this is what she had to say…
Gina says, "Growing up, I always had a dream of riding in a Studebaker on my wedding day. My Lebanese grandfather, "Ghiddo" (Arabic for grandpa), whom I was very close to, was an automotive engineer for Studebaker, and a part of the design team that invented the automatic transmission. Unfortunately, by the time I actually got married, my Ghiddo had already passed on. So including a Studebaker on our wedding day became even more important to me, as it was like having him there with us in some small way.
I set out searching for a Studebaker online. I went to the website of the local Studebaker Club in San Diego and viewed all the members' cars. But didn't find a car that had a backseat that we could ride in. After a bit more searching, I discovered Jesse, who is known online as "Just a Car Guy" and maintains a blog about all kinds of automobiles. He was great! He connected me with the president of the Studebaker Club, Brian Bennion, who turned around and made it his personal mission to find me the right Studebaker, after hearing my story (I was so grateful!!). Soon I was in touch with Sean-Colin Fort, who is the chapter's webmaster and owns a 1940 President Studebaker. His car was actually once owned by a member of the Studebaker family and his parents (who used to own the car) even used this Studebaker on their wedding day.
The day I went to view Sean-Colin's car, I cried! This Studebaker was absolutely beautiful and surpassed anything I had dreamed of. Ironically, I also learned that even though we were viewing the car in El Cajon (where he stores it), Sean-Colin actually lived right up the street from my mom in Encinitas. It felt very meant to be and I couldn't help thinking that my Ghiddo had a little hand in all of this! I am forever grateful to Jesse "The Car Guy", Brian Bennion and Sean-Colin Fort for all their efforts in making this dream come true for me.
Another story too, from our day, is our priest. When we were looking at churches to use, we decided upon St. Paul's Cathedral in SD that represented (to us) all the Cathedrals we visited while traveling/living in Europe. Once we booked the church we needed to select a priest from the people on staff there at St. Paul's. To our shock and amazement, the same priest (now a Canon) who married my parents up in LA was now on staff at the Cathedral in San Diego. So on October 1st 2010, the same priest who resided over my parent's wedding, resided over our wedding; 40 years and two months to the day!"