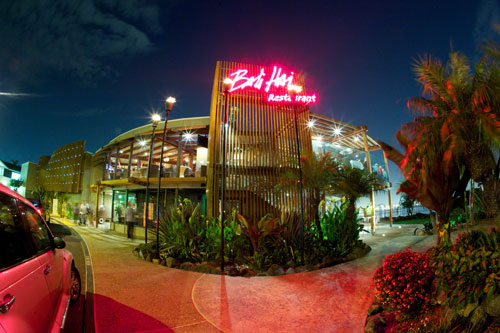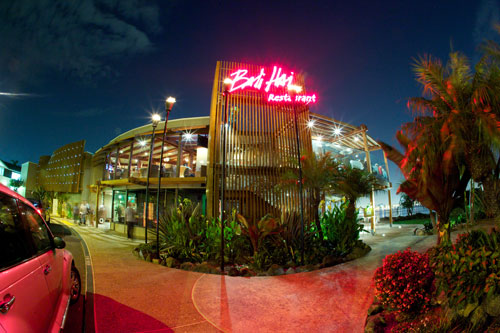 We recently had the pleasure of shooting Elizabeth + Kevin's wedding reception at the Bali Hai Restaurant on Shelter Island in San Diego. What an incredible experience! Here are the top 3 reasons why we loved it.
The Bali Hai is BEAUTIFUL!

The location itself is very striking. As you can see from the photo above, the architectural design of the building just makes for an amazing backdrop to any wedding reception. I think my favorite feature of the building is how they designed it to be in the round. No matter where you are, the views are incredible. It's located on the corner tip of Shelter Island, so the view of San Diego and the harbor is unmatched! Which also makes for a great breeze off the water, actually. (Something you don't think about, but comes in very handy on a warm summer day.)

Lots of natural light

This is important for us as videographers. Nothing makes it harder to get good footage at a reception than a dim, dark ballroom. Having accent lighting is so important, and in this case, the sun (and sunset) actually provide that! Elizabeth and Kevin's reception was in the Hawaiian Village, a beautiful outdoor pavilion on the harbor side of the Bali Hai. Can you say unobstructed views for everybody? Once the reception began, we were treated to a gorgeous sunset that cast the bride and groom in a beautiful golden light that you just don't get indoors.

Roomy and private

When you've invited all your friends and family to celebrate your day with you, it's great to have a space that is comfortable and private. Restaurant diners won't ever bug you because they enter through the front, and the Hawaiian Village is located on the other side, by the harbor. Since it's a pavilion, there are no walls to constrict people, which adds a wonderful ambiance as everyone is able to mingle and chat as they please.
BONUS REASON – Private Boat Dock:
Ok, so there are four reasons why Bali Hai is awesome. They have a private boat dock just for the restaurant! This means that if you wanted to make a unique getaway at the end of your night, you could depart the reception via boat! Just imagine. You could book your wedding night at a resort across the harbor (or just around the corner on Shelter Island for that matter), and leave your friends and family in a grand exit down the dock and onto a water taxi! (C'mon, aren't limos SO 2009?)
A few other things that I didn't cover in more detail here are the delicious food, the gracious and accommodating wait staff, and the awesome outdoor firepits. The Bali Hai is a one-of-a-kind venue and is perfect for your wedding reception. You should definitely check it out!