One of the best parts of our job is taking a whole bunch of seemingly random video clips and using them to tell a story. The hours that take place across the wedding day are edited down into a concise story; one that you are going to enjoy watching. Believe me, there's no way you want to watch EVERYTHING. It's one reason why we don't provide our couples with the raw footage. Our goal is to create a wedding film that, each time you watch it, transports you back to that day and brings back the rush of emotions you felt.
The ceremony is a great example. Holly and I shoot the ceremony with at least three different camera angles. This allows us to have total flexibility in choosing the best angle to drive the story. When the bride is reading her vows, and the groom is tearing up, we can show you both reactions. When the groom stumbles over his vows and the bride can't help but laugh, we can show you that too. What amazes me most is how the footage looks when it starts, compared to when we're finished with it. Check out this picture of the editing timeline for Jessica + Daniel's ceremony, before, and then after we edit it.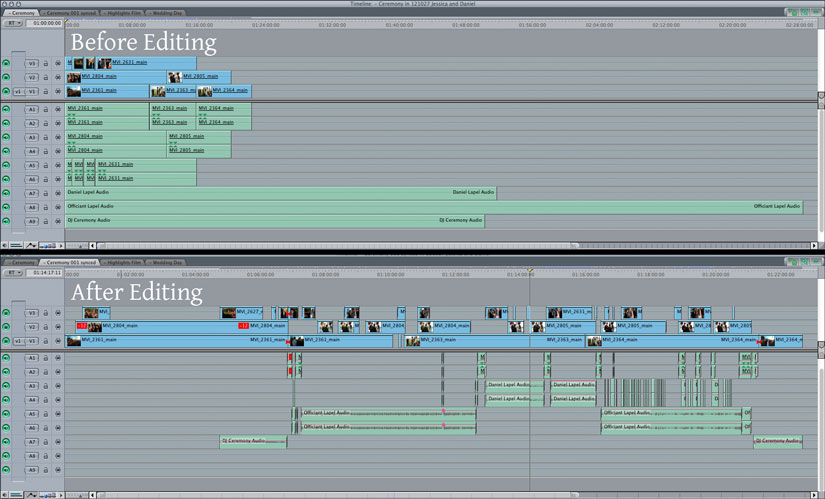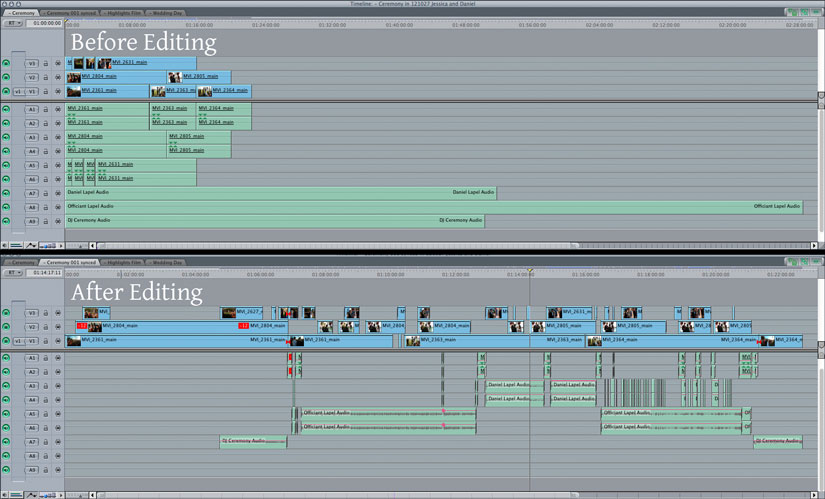 Before we begin to edit, it's just a big pile of clips and audio. When we're done, it's an intricate dance of story pieces that form a narrative. How we compile these shots and moments is one of the unique features that separates us from another wedding cinematography company. It's also a HUGE reason not to let Uncle Bob shoot your wedding day.
It's the art of taking snippets and telling a story in a way that no one else will. It's what makes the wedding film so enjoyable and irresistible to watch for years to come.